Web Hosting - e-Commerce Package
Our e-Commerce web hosting package is perfect for large businesses, e-Commerce sites or other sites that require high bandwidth usage. With this package, which costs $29.99 per month, you get: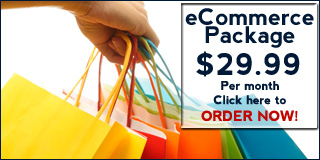 1GB

*

of storage space
Unlimited email accounts
Unlimited Domain aliases/Sub Domains
Unlimited mailing lists
50 SQL databases
6GB

*

bandwidth
Unlimited FTP accounts
Web access to your email account(s)
Unlimited E-mail forwarding
Unlimited Auto-responders
PHP and MySQL
E-Commerce shopping cart
Content Management System (CMS)
Website Analytics setup and monitoring
Free website templates available for your site and a free site builder
One-click package installers- install many packages like Instant Shopping Carts, Blogs, Portals, Forums, Counters, Formmail quickly and easily
You also have the option of purchasing a dedicated IP address and SSL certificate.
All of our hosting packages utilize "Green Hosting" practices powered by Texas Wind, and all come with a 90-day, 100% money- back guarantee. If you're not satisfied with our service, contact us within 90-days of purchase, and we'll issue a full refund.
* Many companies now offer "Unlimited" bandwidth and storage. Unfortunately, there's really no such thing as "unlimited" bandwidth and storage, and if you read the fine print, you'll usually see terms along the lines of "if you go over such and such an amount your account will be suspended for the remainder of the month." ComputerGeeks2Go doesn't want to offer something to our clients that doesn't actually exist. If, at any time, you need more bandwidth or storage, please contact us so we can customize a solution that works for you. (You can compare the prices and features of all of our hosting packages side-by-side here.)
Order a e-Commerce Hosting Package now or you can email us at sales@computergeeks2go.com and let us help you establish and host your web presence today.
Review our Terms of Service